Divalicious Presents CHOCABARET
CHECK OUT MY NEW SHOW! CHOCABARET is a tasting of New York artisan chocolate makers set to music—a cabaret show and chocolate tasting combined in NYC.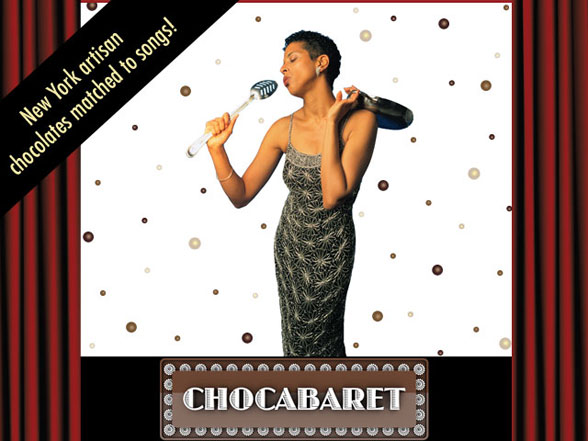 You taste, I sing.
Listen, laugh and learn as I lead you through a tasting of assorted chocolate bon-bons and bars made by New York's finest chocolate makers (including me!) and pair each chocolate with a song, accompanied by my band, The Tempered Souls.
LISTEN, LAUGH & LEARN ABOUT CHOCOLATE
When you come to Chocabaret, you get everything you need to taste and follow along: a platter of chocolate bon-bons and chocolate bars, cacao beans as well as nibbling chocolate—so you save the platter for the show—flavor wheels, score sheets, rating scales, palate cleansers and more.
As you taste, I'm going to pair each chocolate to a tune and serenade you as the chocolate melts in your mouth.
You explore the flavor notes and feelings the chocolate and the music inspires.
After each taste and tune combo, we'll chat about each chocolate and you get to rate and score the chocolate according to how and why you like them… or not.
Taste is totally subjective and you get to explore yours during this show.
And… you'll learn about chocolate—but it will not feel at all like a chocolate lecture.
A common reaction to an "eatertainment" show is "Wow, I had a great time and I even learned something!"
Come to Chocabaret and you'll find out:
How chocolate is made from bean to bar.
How to taste chocolate like a pro.
How to pick a great chocolate.
About the chocolates you're tasting and the chocolate maker
About the history of chocolate and maybe a lil of my "herstory" with chocolate (read: Learn how chocolate made me cry…)
CHOCABARET IS AVAILABLE AS A PRIVATE, CORPORATE, FESTIVAL OR CONFERENCE EVENT!
Chocabaret is Fun. It's Local. It's Interactive. It's Delicious!
You'll be on your way to being a chocolate tasting expert.
You'll know how to avoid buying bad chocolate.
You'll amaze and impress your friends with your new chocolate knowledge.
CHOCABARET IS AVAILABLE AS A PRIVATE, CORPORATE, FESTIVAL OR CONFERENCE EVENT!
CHOCOLATES I'M SINGING ABOUT:
I'm thrilled to be serving chocolates from New York's finest chocolatiers at "Chocabaret: a tasting of NY artisan chocolates set to music":
Fika Choklad (the chocolate maker is Håkan Mårtensson )
Divalicious Chocolate (that's me!)
Grab your favorite chocoholics and come to Chocabaret!
CHOCABARET IS AVAILABLE AS A PRIVATE, CORPORATE, FESTIVAL OR CONFERENCE EVENT!
I'm beyond excited about bringing Chocabaret to you. I appreciate and look forward to your support to make it a success and I'll give you a BIG CHOCOLATE HUG! when I see you at the show!

THANKS!
XXOO
JAX
Jackie Gordon, Singing Chef
MAILING LIST: Make sure you're on my mailing list to get more information.