Divalicious Presents CHOCABARET
Chocabaret: Where a chocolate tasting meets a cabaret show
WHAT IS CHOCABARET?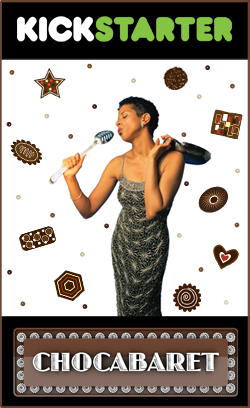 Chocabaret is the first New York artisan chocolate tasting set to music—a cross between an artisan chocolate tasting and cabaret show.
You taste, I sing.
Listen, laugh and learn as I lead you through a tasting of assorted chocolate bon-bons and bars made by New York's finest chocolate makers (including me!) and pair each chocolate with a song, accompanied by my band, The Tempered Souls.
LISTEN, LAUGH & LEARN ABOUT CHOCOLATE
When you come to Chocabaret, you get everything you need to taste and follow along: a platter of chocolate bon-bons and chocolate bars, cacao beans as well as nibbling chocolate—so you save the platter for the show—flavor wheels, score sheets, rating scales, palate cleansers and more.
As you taste, I'm going to pair each chocolate to a tune and serenade you as the chocolate melts in your mouth.
You explore the flavor notes and feelings the chocolate and the music inspires.
After each taste and tune combo, we'll chat about each chocolate and you get to rate and score the chocolate according to how and why you like them… or not.
Taste is totally subjective and you get to explore yours during this show.
And… you'll learn about chocolate—but it will not feel at all like a chocolate lecture.
A common reaction to an "eatertainment" show is "Wow, I had a great time and I even learned something!"
Come to Chocabaret and you'll find out:
How chocolate is made from bean to bar.
How to taste chocolate like a pro.
How to pick a great chocolate.
About the chocolates you're tasting and the chocolate maker
About the history of chocolate and maybe a lil of my "herstory" with chocolate (read: Learn how chocolate made me cry…)
Chocabaret is Fun. It's Local. It's Interactive. It's Delicious!
You'll be on your way to being a chocolate tasting expert.
You'll know how to avoid buying bad chocolate.
You'll amaze and impress your friends with your new chocolate knowledge.
CHOCOLATES I'M SINGING ABOUT:
Ronnie-Sues Chocolates
Fruition Chocolate
Fika Chocolate
Bond St Chocolate
Fine & Raw Chocolate
Divalicious Chocolate
and more….
Grab your favorite chocoholics and come to Chocabaret!. Make sure you're on my mailing list to get more information.
CHOCABARET TICKETS & MORE
I'm producing and promoting Chocabaret: A tasting of artisan chocolates and the songs that make you go Mmm… via a Kickstarter campaign.
What is a Kickstarter campaign?
Kickstarter is a crowd funding platform for creative projects. Supporters pledge money to help creators make their dream projects possible by raising the money to produce them.
THE CHOCABARET KICKSTARTER
I'd love for you to come to Chocabaret and/or help me make the show a reality.
Become a Chocabaret supporter by pledging money in exchange for the delicious rewards I've come up with. Any amount big or small helps!
Your choice of rewards includes my utmost appreciation, tickets to Chocabaret in New York City, chocolates made by me and my Chocabaret chocolate making partners, chocolate fountain parties, a musical NYC chocolate tour, RECI-Tees t-shirts, a private show and much more!
We are raising enough money to produce one show so seats will be limited.
WHEN the Chocabaret Kickstarter meets its funding goal, the show will go on. You can only get tickets via the Kickstarter campaign so get on the mailing list to know when it launches!
BUT, if we don't meet our funding goal, all the pledges get returned and no one gets any chocolate, music or fun.
IF we reach our funding goal we may be able to put on even more shows.
WHEN? HOW? WHEN? HOW? WHEN HOW? WHEN?
Chocabaret will take place at the Metropolitan Room in New York City on October 20th! Tickets are exclusively available via the Kickstarter at this point. Sign up for my mailing list and you'll be first to know when it's LIVE and get updates about Chocabaret.
Plan to support the Chocabaret Kickstarter campaign to guarantee yourself a seat and help me make sure Chocabaret comes to fruition.
The folks on my mailing list will hear about the Kickstarter first and get the news about Chocabaret as it develops with give-aways and chances to win free tickets.
BUT WAIT THERE'S MORE! — NYC CHOCOLATE GUIDE!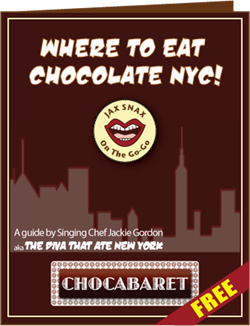 Sign up for my mailing list and YOU also get a FREE GIFT: Where To Eat Chocolate NYC Guide, which highlights my favorite spots to eat all things chocolate, on the go, in New York City. So sign up now and get that too!
I'm beyond excited about bringing Chocabaret to you. I appreciate and look forward to your support to make it a success and I'll give you a BIG CHOCOLATE HUG! when I see you at the show!



THANKS!
XXOO
JAX
Jackie Gordon, Singing Chef
*My New York artisan chocolate partners on the Chocabaret project include: Roni Sue's Chocolate, Raaka Chocolate, Bond St. Chocolate, Xocollati Chocolate, Divalicious Chocolate (That's me!), more to come…